Exeter Veterinary Hospital
Our mission is to provide the best possible care for your pets. To do this, we set aside extra time with each client, we spend extra time and money on our equipment, testing procedures, quality control, and our cleanliness (a cleaner facility means less odor and bacteria which means lower infection rates). It's the little things that add up to make a big difference in the outcome of many surgical and medical cases. We want the best possible outcome for every pet, so we take the extra care to cover the little things.
We are located at the corner of Perkiomen Avenue (US 422) and Fairlane Drive in Exeter Township, PA. To get to us from the east turn right onto Fairlane Drive. From the west turn left onto Gibraltar Road (at the Arby's), take a right on DeMoss (past the township building) and a right on Fairlane Drive.
Our Staff
All of our staff members are here because of our love of animals. As such, we strive to do the best for you and your pet. Our staff consists of doctors, nurses, hospital assistants, and receptionists. We require all staff members to further their knowledge through continuing education programs, and we supplement this with
monthly
staff training sessions. Our nurses have specialized college degrees in animal health technology and all are either certified by the state or completing their certification.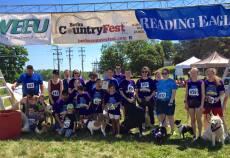 4955 Perkiomen Ave

Reading

,

PA

19606

Phone: (610) 779-2300
Fax: (610) 779-3166
Mon-Fri: 8:00am - 7:00pm
Sat: 9:30am - 11:00am
Sun: Closed